Barb at
Skittles' Place
has started a new weekly meme called Heads or Tails. Every week you get to post on whatever the topic she chooses. Fun, eh? This weeks theme is "Beginnings".
There are so many things I could write about that have to do with
beginnings
. I had thought up this big long post about all the major beginnings in my life, but then decided that was too much work. Why should I
begin
to change my lazy habits now? So I decided to go with 2 major
beginnings
that I cherish: the births of my children.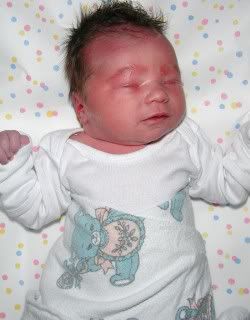 Toddler- In the
beginning
, there was me and Hubby, and then I managed to nag him long enough about having a baby that he finally gave in and we conceived Toddler. The
beginning
of my pregnancy wasn't too hard. I had a little morning sickness, I couldn't eat chocolate without feeling sick, and I excitedly told everyone I was pregnant (whether they wanted to know or not). I
began
looking pregnant about halfway through, about the time the morning sickness
began
to fade. We didn't do much to get ready for the baby, but slowly
began
to collect items we needed from family and friends. Finally I got to the point where I just wanted it to be over.
Beginning
about midnight the day before I was due, I started having contractions. About 1pm that day we checked into the hospital and about an hour later they
began
my epidural. I
began
pushing at 7:30 but after 2 hrs he still wasn't coming out, so they
began
prepping me for a c-section. When I heard my son's first cries I
began
to cry. Although his
beginning
was not quite what I'd planned, it was still amazing.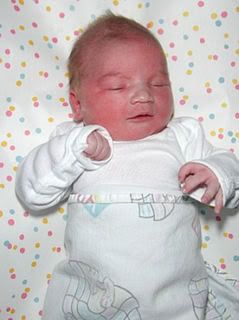 Baby- His
beginning
started right after I had Toddler, when I started thinking about having a VBAC (Vaginal Birth After Cesarean) for my next child. I had a miscarriage 6 months after Toddler, so in the
beginning
of my pregnancy with Baby it was hard not to worry. Luckily nothing bad happened. I was surprised when morning sickness wasn't as bad, and I
began
to look pregnant a little earlier. The whole time I researched VBAC and
began
making plans for this birth so that it might turn out how I wanted. From the
beginning
I felt sure that it would be a girl, so I was completely shocked when we found out it was a boy! We were happy Toddler would have a little brother though and we
began
to try to help him understand about the baby coming. He didn't really
begin
to understand until it was almost over. Contractions again
began
the day before my due date, and continued throughout the night. We arrived at the hospital around 12:30 and I
began
laboring without pain medicine. Around 4:45ish (I didn't really care about time through all my pain lol) I
began
pushing, and at 5:15 on his due date, out came Baby. He didn't really cry in the
beginning
and they had to give him oxygen but he was fine. I was able to
begin
nursing withing 15 minutes of his birth. His
beginning
was so empowering and wonderful.
OK, I have officially over-used the words
beginning
and
began
and they're starting to sound really weird, so I will finish up.