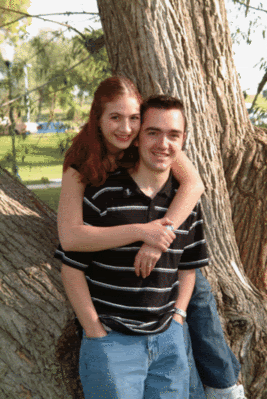 Today is Hubby's and my 4th anniversary! It's amazing how much our life has changed in those 4 years. We now have 2 adorable little boys,out of college, moved to another state, own a house and a minivan. And I love him more than I thought possible, everyday I love him more. :) I'm so glad I chose to spend my life with him.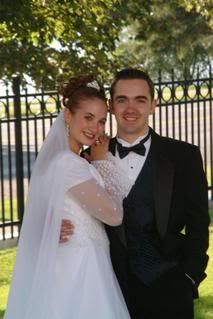 We aren't doing anything to celebrate today. Instead we are waiting until next week when the boys will be at the inlaws all week. Monday we are going to dinner and a movie. It will be so nice to have a date night alone.
I love the engagement and wedding pics of us, we are so cute and happy. I really want to have my hair long and red again like it was then, I loved it and Hubby loved it. I guess we haven't changed much in 4 years. Hubby now has a hot goatee and I've got the mommy look going on, we've both got a bit more belly lol. But otherwise we haven't changed much.
Happy Anniversary Honey!