Alright, you know I don't like posting pictures of myself, which is why I try to keep myself out of them as much as possible, but here is my belly shot from today at 24 weeks.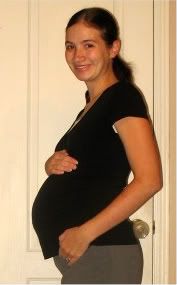 And I actually look bigger in real life. This outfit doesn't do the belly justice, yo know how black is slimming. Plus by the end of the day when all the weight and food has settled in I look huge. Just ask Hubby. One of these days I need to actually make myself presentable for a picture lol. This was first thing in the morning. My hair is always in a ponytail, I just never do anything with it. Part of that is because without a blow dryer I can't dry it straight so it's pretty blah and takes too long to use my straightener (and am I the only one who has ever wondered if one of those bathroom
hand dryers
would work to blow dry hair in a pinch?). The other part is I'm just no good at doing hair lol. And I hardly ever wear makeup. So one day I need to get a better pic with my hair done (actually I think I did have it straightened in my 16 week pic) and put a little makeup on. And eat breakfast before the pic so I don't look so tortured.